Boca de Fuego - The 1st. hot-wings challenge in Nicaragua
About the client
Pollo Rico, is an iconic brand in Nicaragua with a rich heritage and a commitment to innovation. Pollo Rico's legacy and forward-thinking spirit make them a brand that not only satisfies the taste buds but also ignites a passion for culinary adventure.
"We're thrilled with the results, and the impact Boca de Fuego has had on our brand is immeasurable.

Kenia Valle

Marketing Manager, Pollo Rico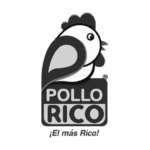 Project Summary
Pollo Rico, a renowned Nicaraguan brand with a legacy in the culinary world, sought to engage a younger, dynamic audience while retaining its brand essence. The challenge was to create an innovative concept that would not only connect with this demographic but also ignite their passion for the brand.
Project Type: Brand Positioning
Engagement Model: Fully Managed Agency Services
Timeframe: 2017 – Present
Project Goal
Our creative agency conceptualized and introduced "Boca de Fuego," the first-ever hot-wings challenge in Nicaragua. This audacious concept aimed to captivate the adventurous spirit of young adults while reinforcing Pollo Rico's reputation for bold flavors.
Boca de Fuego's core challenge was straightforward yet thrilling—participants had to devour an entire bowl of extremely hot wings drenched in Pollo Rico's secret hot sauce.
Igniting Engagement for Pollo Rico
We leveraged Pollo Rico's digital channels to ignite excitement. Our captivating content invited followers to register for the Boca de Fuego tournaments, generating buzz and anticipation.
The competitor who could withstand the heat and conquer the bowl emerged victorious.

Boca de Fuego demonstrated that even a beloved and established brand like Pollo Rico could reinvent itself to connect with a new generation, proving that the fire of creativity can ignite the future of brand engagement.
Boca de Fuego was more than just a hot-wings challenge; it was an experience that connected with our audience on a visceral level.
Kenia Valle, Marketing Manager, Pollo Rico